My Cycling Hobby



My other interests are sports, in particular cycling (both by myself and watching tremendous events like the Tour de France) and ice-skating.
The most exiting skating event is the `Elfstedentocht' (200 km), which took place for the last time at January 4th, 1997. I participated, but had to stop after 164 km (Bartlehiem for the insiders), unfortunately.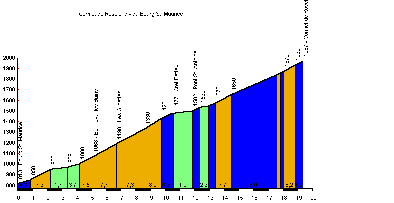 Cormet de Roselend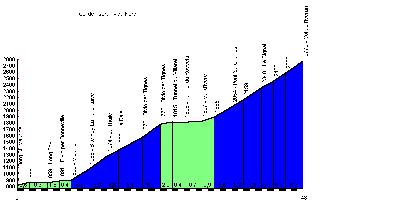 Col de L'Iseran
In 1997 we examined a part of the track of the Tour de France among which climbs of Cormet de Roselend (1980m), Col de la Madeleine (1995m), Col de l'Iseran (2770m, what a climb!) and the ascend to the ski-resort Courchevel (1850m).
In 1999 we biked some famous mountains from the Giro d'Italia like the Passo di Stelvio (2750m), Passo di Gavia (2661m, who doesn't remember the legendary climb in the snow in 1988 with Breukink, van de Velde, and Hampsten?), and the Mortirolo (1852m, well-known from the Giro d'Italia, somewhat unknown, but a real beast).
Directly after, in France we participated in the Tour de la Marmotte (July 3), a one-day tour with climbs of the Croix-de-Fer (2120m), Col de Telegraphe (1560m), Col du Galibier (2660m, and unbearable), and the finish on top of L'Alpe d'Huez (1850m). This took about 10 hours and 15 minutes: still good for a silver diplom! In the preparation for this tour we examined de Col de L'Ornon (1360m) and de Col de la Morte (1520m). The results of the Tour de la Marmotte can be found here.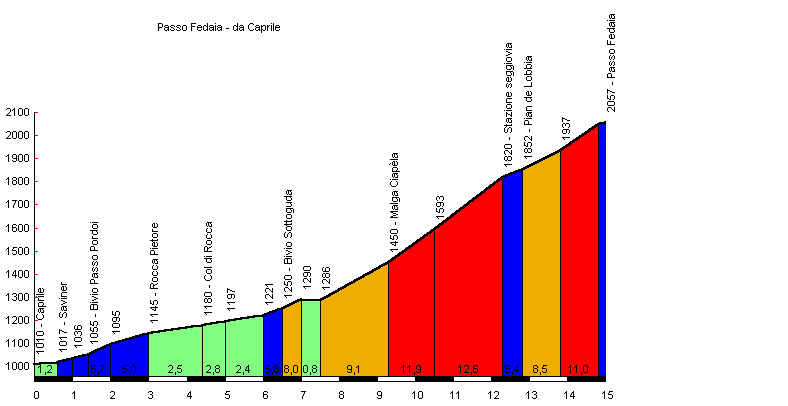 2001 we went to the Italian Dolomites to climb some magnificent mountains from de Giro d'Italia. Among these great climbs we tried: Col du Duran (1605m), Passo Falzarego (2015m), Passo Giau (2236m), Passo Staulanza (1775m), Passo Fedaia (2057m, possibly the steepest I ever climbed), the famous (but not so difficult) Passo Pordoi (2239m), Passo Sella (2214m), Passo Campolongo (1875m), San Pellegrino, and some others. As a cycling area this is paradise! There are many opportunities to make tours, in almost all possible directions. Strongly recommended.
2002 we decided to go to the southern part of the French Alps, a region (Alpes de Haute Provence) that is typically not visited by the Tour de France as the roads are too narrow to carry the crouds and the followers of the Tour. Nonetheless, the climbs and mountains are very nice out there! We climbed the highest mountain that you can reach via an ordinary road, the Cime de la Bonnette (2802m). The other climbs we did are Col de Vars (2108m, both sides), Col de la Cayolle (2326m, both sides), and the Col d'Allos (2247m). A nice view on these mountains can be found here.
This page was last updated on August 1, 2003